While the losses landing on technology stocks over the last few days feel sudden, they weren't completely without warning.
The signs were showing in credit markets, specifically, where investment-grade corporate bonds have been behaving in a way that portended the last big equity shakeup, in February.
Goldman Sachs strategists noted that U.S. investment-grade debt has trailed equities for a month and suffered a larger dislocation Thursday that rang alarm bells.
When measured relative to volatility, credit has trailed equity by 3.1 standard deviations in the past two, four and six weeks, hearkening to a similarly large divergence in in January, analysts at the bank said.
On Thursday, the five-year Markit CDX North America Investment Grade Index widened 3 basis points as the spread between 2- and 10-year yields shrank, but stock volatility added just half a point and the S&P 500 Index didn't budge.
Another resemblance to the start of the year: tech stocks at records. While futures on the Nasdaq 100 slipped for a second day Friday, falling as much as 1.2 percent, the cash index was sitting at an all-time high as recently as two days ago.
"In early January, modest widening in credit contrasted sharply with a rapid rise in equity prices," Goldman Sachs' strategists including John Marshall say in the note. "That implied that credit (accurately) did not buy into the enthusiasm of the equity market. In this episode, the divergence has been equally shared between equity rising and credit widening, suggesting a more fundamental disagreement about the direction of risk."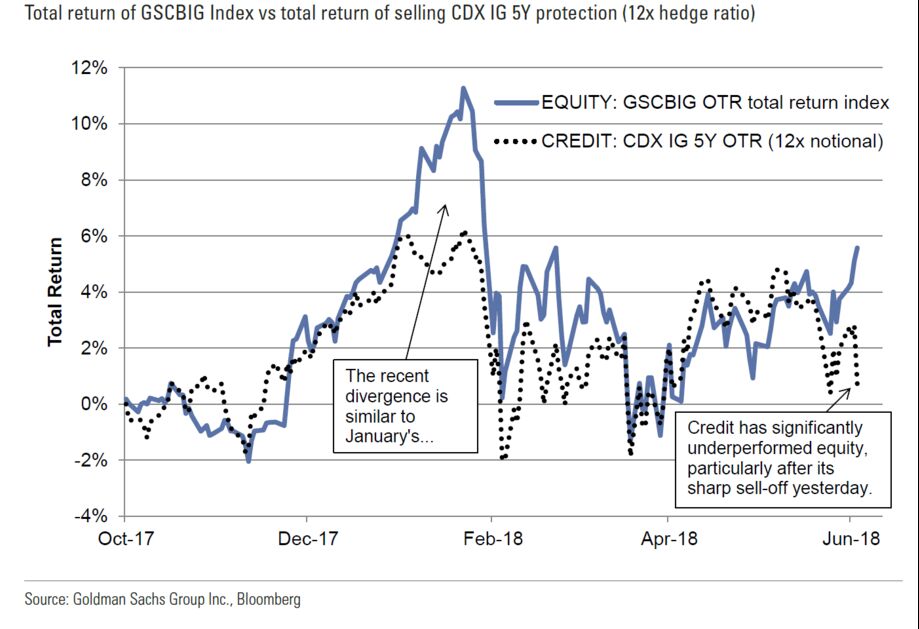 As for the future: when credit has underperformed equity by about 1 standard deviation over two, four, six and eight weeks, stocks fell 2.3 percent on average over the next month, Marshall's calculations show. When credit outperformed stocks over the same time frame, stocks were up about 2.4 percent in the next month.
"We see this divergence as significant and leads us to favor de-risking strategies in equities," Marshall says in the note.