Where has all the stock market volatility gone?
U.S. equities have been surprisingly quiet the past three years. There hasn't been a one-day change of 2 percent or more in the Standard & Poor's 500 Index since December, Bloomberg News reported. Data compiled by Bloomberg and Deutsche Bank AG note that this is the longest such streak since February 2007, when 164 trading days passed without breaching the 2 percent threshold.
Even more surprising is the lack of 1 percent moves. Eight weeks have passed without a change of that magnitude in the S&P500. "That's the longest such streak we've seen in 21 years," Business Insider reported.
Salil Mehta discusses the lack of market action at Statistical Ideas. He notes exactly how low volatility has become during the past 6 1/2 years. The following list shows what percent of total market volatility occurred in each year during that period:
2009 – 26 percent
2010 – 16 percent
2011 – 13 percent
2012 – 16 percent
2013 – 10 percent
2014 – 9 percent
2015 – 10 percent
Here's another way of showing the distribution of volatility by year: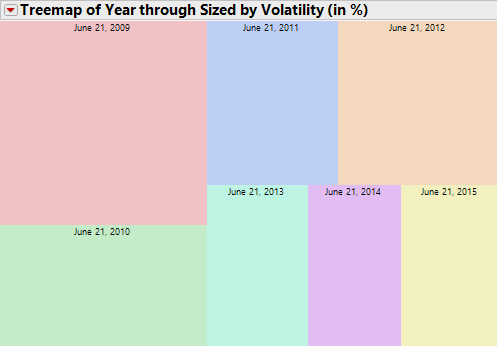 Source: Statistical Ideas
It isn't for a lack of catalysts: investors are awaiting the Federal Reserve's first interest rate increase in nine years; the Greek debt saga continues to cause troubles in Europe; China's booming stock market shows signs of excess; and the Middle East remains a disaster.
My colleague Michael Batnick, writing at the Irrelevant Investor, notes that people searching for volatility are looking in the wrong places. Instead of watching stocks, he suggests looking at bonds.