Pacific Investment Management Co. has lost its title as manager of the world's largest emerging-market bond fund, battered by ill-timed bets that fueled an investor exodus.
Assets managed by Pimco Emerging Local Bond Fund have tumbled 62 percent, from an April 2013 peak, to $6 billion at the end of October. It was about $150 million smaller than an Ireland-incorporated fund run by Stone Harbor Investment Partners LP.
While few emerging-market funds have escaped losses as commodity prices fell and the strong U.S. dollar crushed developing-nation currencies, none has lost as much money as Pimco.
After attracting more assets than any of its rivals in the wake of the 2008 financial crisis, Pimco's outsized investments in places such as Brazil left it trailing its benchmark. Power struggles at Pimco shook investors' confidence further as former Chief Executive Officers Bill Gross and Mohamed El-Erian left the firm.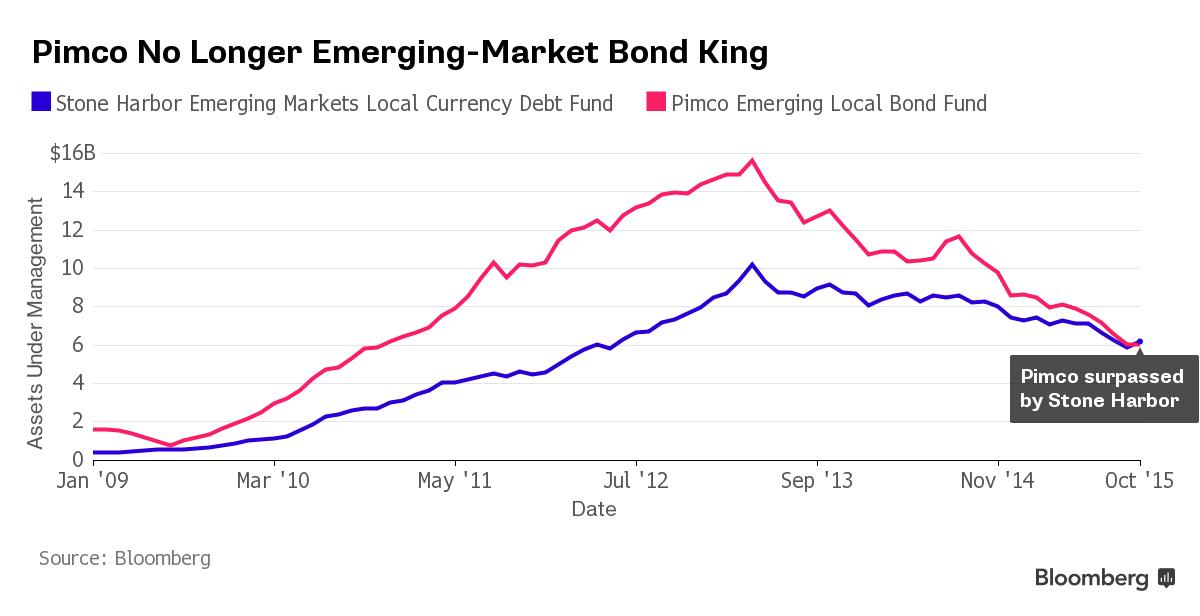 "Certainly performance at Pimco has been challenged in the last few years," said Philip Schmitt, senior research analyst at consulting firm Verus Investments in Seattle. "People are voting with their feet," he said, while adding that emerging-market funds overall have suffered from a strengthening dollar.
Agnes Crane, spokeswoman for Pimco, declined to comment on the drop in assets.
Fund Underperformance
Pimco's local bond fund, managed by Michael Gomez in Newport Beach, California, lost 25 percent in three years through Nov. 16 on a total return basis, compared with a 22 percent drop in JPMorgan Chase & Co.'s benchmark for emerging market bonds. The fund, which invests in local-currency bonds in developing nations, lagged 69 percent of its peers tracked by Bloomberg.
Stone Harbor's Emerging Markets Local Currency Debt Fund also underperformed, losing 27 percent in three years. But it held onto investors better, according to Pablo Cisilino, who helps oversee the fund, losing 40 percent of assets since May 2013, to $6.2 billion. The fund had been as much as $6.7 billion smaller than Pimco's.
"It has been tough for everybody in the industry," said Cisilino. Stone Harbor, founded by Peter Wilby and his former Citigroup Asset Management team in 2006, specializes in emerging-market and high-yielding bonds.
JPMorgan's gauge of emerging-market local-currency bonds rose 0.2 percent Tuesday, reducing its loss this year to 12.5 percent.
Market Woes
The rise and fall of the Pimco fund also reflects the broader boom and bust in emerging markets over the past six years.
Assets in the Pimco local currency fund surged to $15.6 billion in April 2013, from $778 million in July 2009, a period when developing nations led global growth while interest rates in the U.S. and Europe plummeted toward zero. When the Federal Reserve signaled plans to withdraw monetary stimulus in May 2013, it touched off a stampede out of developing nation funds.
The losses are "probably a combination of the performance of the fund and people getting nervous about the EM," said Karin Anderson, an analyst at Morningstar Inc.
Fulton Financial Advisors cut its holdings in Pimco's emerging-market bond fund by more than 90 percent in the 12 months through September, shifting some money to another Pimco fund specializing in U.S. corporate and mortgage bonds.
'Bad Opportunity'
"There's a double whammy on EM debt," Fulton Chief Investment Officer Keith Aleardi said by phone from Lancaster, Pennsylvania. "You have emerging markets and companies in them having borrowed way too much and commodity prices have come down. And then you've had a strengthening dollar. It's a bad opportunity now."
Adding to Pimco's woes, the surprise resignation of El-Erian in January 2014 exposed a power struggle that culminated with the ouster of Gross eight months later. Pimco's total assets under management plunged to $1.5 trillion as of September from $2 trillion in 2013. The Pimco Total Return Fund also lost its crown as the world's largest bond fund to an exchange traded fund at Vanguard Group, falling to $93.7 billion in October, less than one third its April 2013 peak.
With outside investors fleeing, Pimco's emerging market funds are increasingly relying on the company itself to hold the assets. About two-thirds of the local bond fund was owned by other Pimco investment vehicles as of June, including $2.8 billion at Pimco All Asset Fund, which invests in the company's products, filings show.
Brazil Bets
The investor exodus from Pimco's emerging-market funds has been broad based. Assets in the 11 funds overseen by Gomez shrank to $20 billion, from more than $50 billion at its peak in April 2013, Bloomberg compiled data show. A fund investing in dollar-denominated bonds in emerging markets has lost three quarters of its assets to about $2 billion in three years, while a corporate bond fund tumbled to $222 million, from a peak of $1.6 billion.
Big investments in Brazil have been at the heart of the Pimco funds' roller-coaster ride. A 2002 contrarian bet led by El-Erian in Latin America's largest economy helped burnish Pimco's emerging market reputation. This year, Brazil's bonds have lost 28 percent in dollar terms as a corruption scandal paralyzed President Dilma Rousseff's government and held back efforts to rein in runaway deficit and debt.
Pimco's local fund held 16.4 percent of its assets in Brazilian bonds in June, as measured by duration, before cutting it to 13.9 percent in the third quarter, according to the company's website. That compared with Brazil's 10 percent weighting in JPMorgan's emerging-market benchmark.
In a note published on Pimco's website last month, Gomez and his colleague Lupin Rahman acknowledged that Brazilian assets will remain "highly volatile and prone to overshoots in both directions," because of the political risks.
It also said they are "cyclically cautious" toward emerging markets, while preserving "dry powder" and waiting for future opportunities.