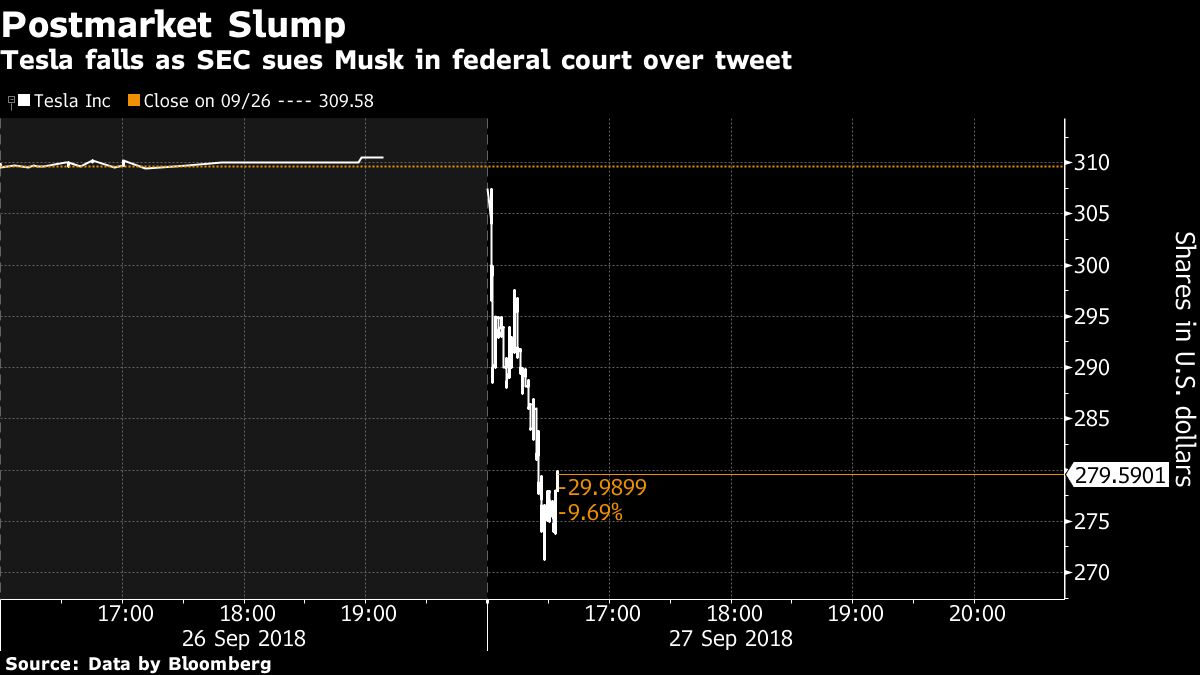 Elon Musk was sued by the Securities and Exchange Commission for his explosive August tweet about taking Tesla Inc. private, putting him suddenly in jeopardy of losing control over the electric-car company he co-founded.
Moving with unusual speed, the SEC said in a lawsuit filed in New York that Musk misled investors by claiming falsely that he had lined up funding for the transaction.
The SEC said it's seeking unspecified monetary penalties and, more importantly, will request that a judge bar Musk from serving as an officer or director of a public company.
For investors already worried about the company's ability to produce and sell cars fast enough to start generating profits, the prospect of losing Musk — a billionaire entrepreneur whose name is synonymous with Tesla — was unnerving.
They dumped the stock, driving it down 13 percent in after-market trading to below $270 and deepening a selloff that began as the go-private gambit quickly unraveled in August.
"Musk's statements were false and misleading," Stephanie Avakian, co-director of the SEC's enforcement division, said at a press conference in Washington. "They lacked any basis in fact."
In the lawsuit and at the news conference, the SEC officers went to great lengths to spell out the Tesla CEO's carelessness and his erratic behavior — from threatening to "burn" short-sellers who targeted Tesla stock to seeking to amuse his girlfriend, the pop singer Grimes, by weaving in a "marijuana culture" reference to his go-private bid.
(He set a buyout price of $420, a number he landed on in part because it's code for marijuana consumption.)
Musk called the lawsuit "unjustified" and said it left him "deeply saddened and disappointed."
"I have always taken action in the best interests of truth, transparency and investors," he said in a statement. "Integrity is the most important value in my life and the facts will show I never compromised this in any way."
Justice Department Probe
Musk had shot off a tweet on Aug. 7 saying he was considering taking the company private and had secured funding for a deal. Tesla shares soared immediately afterwards.
"In truth and in fact, Musk had not even discussed, much less confirmed, key deal terms, including price, with any potential funding source," the SEC said in the complaint.
Even before the go-private tweet, the SEC was investigating issues at Tesla including its car sales projections. In addition to the SEC suit, the Justice Department is also looking into whether Musk misled investors, Bloomberg News has reported.
Timeline
On July 31, the SEC said in its complaint, Musk met with three members of a "sovereign wealth fund" at Tesla's factory in Fremont, California, for approximately 30 to 45 minutes. In that meeting, a member of the fund expressed interest in taking Tesla private.
Musk took that to mean he was proposing a "standard" going-private transaction, but the terms were not discussed.
Musk has previously said he was talking to Saudi investors about a plan to take the company private.