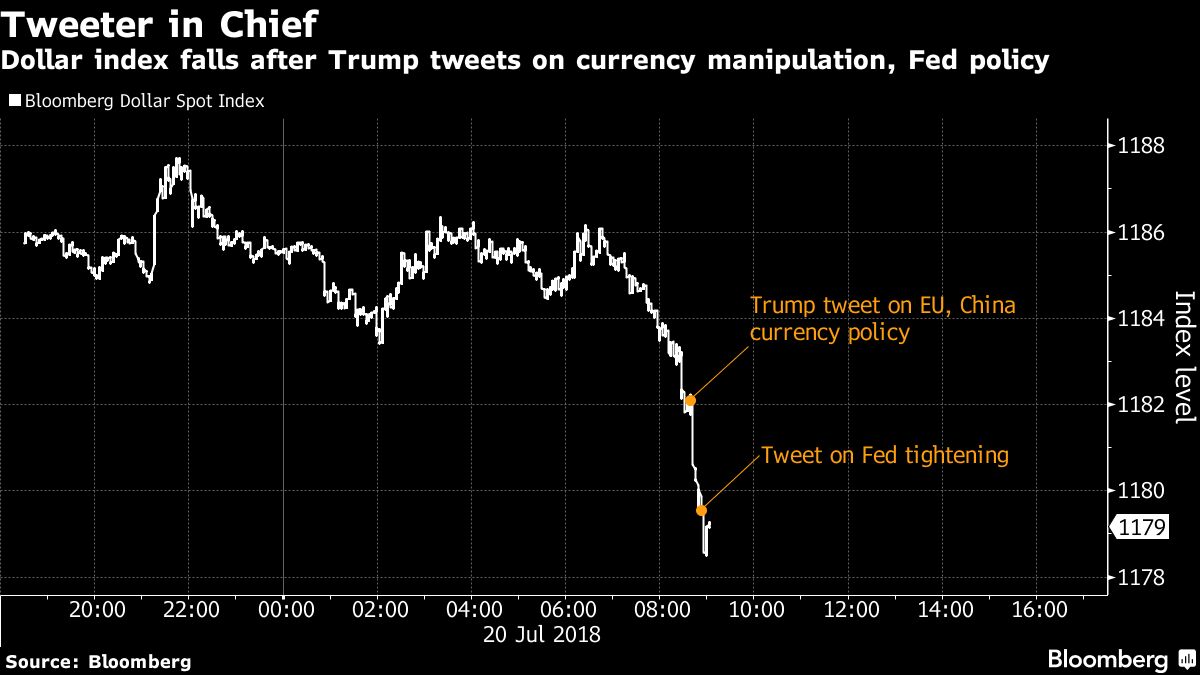 President Donald Trump lashed out at China and the European Union for their weak currencies and said a stronger dollar and rising interest rates are undermining America's "competitive edge," taking a fresh jab at the Federal Reserve.
Trump also said he's prepared to impose U.S. tariffs on all Chinese imports.
"China, the European Union and others have been manipulating their currencies and interest rates lower, while the U.S. is raising rates while the dollars gets stronger and stronger with each passing day — taking away our big competitive edge," Trump tweeted on Friday. "The United States should not be penalized because we are doing so well."
In an apparent reference to Fed rate increases, Trump added, "Tightening now hurts all that we have done. Debt coming due & we are raising rates — Really?"
In a CNBC interview that aired earlier on Friday, Trump said he's "ready to go" with tariffs on $500 billion of Chinese goods, roughly the value of all U.S. imports from the Asian nation last year. "We are being taken advantage of and I don't like it," he said.
Trump's comments shift attention during a week when he's facing growing pressure over his relationship with Russian President Vladimir Putin, after the two leaders met on Monday in Helsinki.
Trump came under fire for his lukewarm support during a news conference with Putin for the finding by U.S. intelligence agencies that Russia meddled in the 2016 election.
It marks the latest twist in an escalating trade war with countries the president accuses of trading unfairly, raising the prospect that the conflict could also morph into a currency spat.
Until now, Trump has mostly focused on using tariffs as leverage to try to convince China and other nations to open up their markets.
Ignores Tradition
Trump is breaking with decades of tradition that presidents avoid commenting directly on the dollar or the path of U.S. monetary policy.
The latter is usually seen as the domain of the Fed, while the U.S. Treasury secretary is typically the chief spokesman on the dollar. For years, the U.S. has hewed to the idea that a strong dollar is good for the U.S. economy.