As residents along the coasts of Florida, Georgia, North Carolina and South Carolina prepare for the impact of Hurricane Matthew, the governor of Florida is not mincing words.
"If you're watching this and are in an evacuation area … get out," said Gov. Rick Scott, emphasizing that the state would either sustain a direct hit from the Category 4 storm or at the very least be severely hit along the East Coast. "There are no excuses, you need to leave. Evacuate. Evacuate. Evacuate."
With wind gusts of 145 to 150 mph, life-threatening storm surges and high tides, power outages that could last for days or weeks, and rainfall totals of 5-12 inches, Matthew is expected to travel up the East Coast from Florida to the Carolinas before pushing away from the coast sometime on Sunday.
Shelters are being set up on the west coast of Florida in anticipation of the influx of residents evacuating ahead of the storm.
In the meantime, residents are making preparations to either ride out the storm if they are far enough inland, or packing up whatever will fit into their vehicles and moving to safer ground.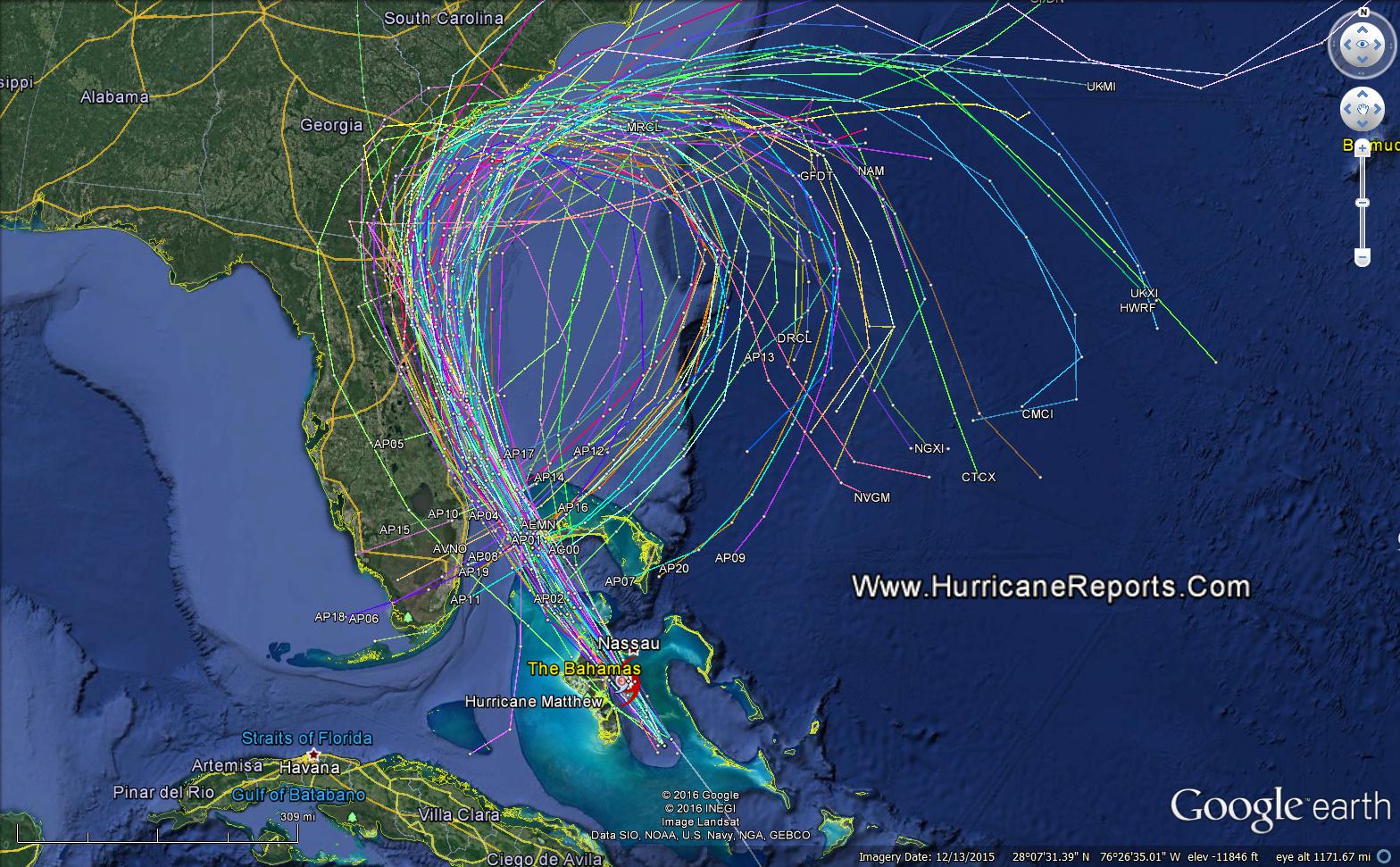 A compilation of forecasted storm tracks for Hurricane Matthew shows that Matthew will be dangerously close to the east coast of Florida. In a bizarre twist, the hurricane will likely do a 360-degree turn and possibly threaten South Florida again with tropical storm conditions early next week. (Photo: Forensic Weather Consultants)
Riding out the storm
Insurers are contacting policyholders in the affected areas and urging them to take precautions in order to stay safe, mitigate some of the damage and recover more quickly after the storm. Residential property owners staying at home should:
Have at least a three-day supply of drinking water (one gallon per person per day) and nonperishable food per person. Eat the perishable items first, suggests preparedness expert Joe Alton, M.D.
Alton also recommends cooking any meat before the hurricane, freezing it for later use.
Charge all computers and cellphones and any supplemental battery backups.
Have battery-operated lights and radios, as well as extra batteries.
Fill bathtubs with extra water for washing and flushing toilets.
Check to make sure that all drains around the property are cleared of debris and that downspouts drain away from the house.
Secure trashcans, outdoor furniture, planters and other items that are certain to become projectiles in high winds.
Bring in all pets or secure them in a safe shelter.
Take photos or video of the inside and outside of the property in case any damage is sustained during the storm.
Move vehicles to higher ground or inside of a garage.
Close and secure all windows and doors. Plywood can be put over windows to protect against flying debris.
The Red Cross recommends turning the refrigerator and freezer to the coldest settings and keep the doors closed. Also consider filling zip-type bags three-quarters of the way with water and putting them throughout the freezer. This creates ice packs to help keep food cold when the power goes out.
Move any items on a lower level several feet up off of the floor in case of flooding or put them in plastic containers to protect them.
Refill any prescriptions.
Fill up gas tanks in vehicles in case of an emergency evacuation.
Have a list of contact numbers for family members or friends outside of the area, so you can let them know where and how you are after the storm.
Have extra cash on hand to purchase items after the storm since ATMs may not be operating.
Have tarps, buckets and mops available in case there is any flooding or damage to the roof or other structures.
Collect any important papers like insurance policies, deeds, vehicle titles, birth certificates and other important papers in case of an evacuation.
Be aware that flood damage is not covered by the standard homeowners insurance policy.
Unplug any electric appliances — televisions, computers, stereos, microwaves, etc.
Have a first aid kit available.
Scott Humphrey, second vice president, risk control for Travelers Insurance says that six out of 10 Americans believe that the risk of severe, damaging weather is increasing according to the 2016 Travelers Consumer Risk Index, and 39 percent believe damage to their property, homes or automobiles is more likely.
Read on for evacuation tips: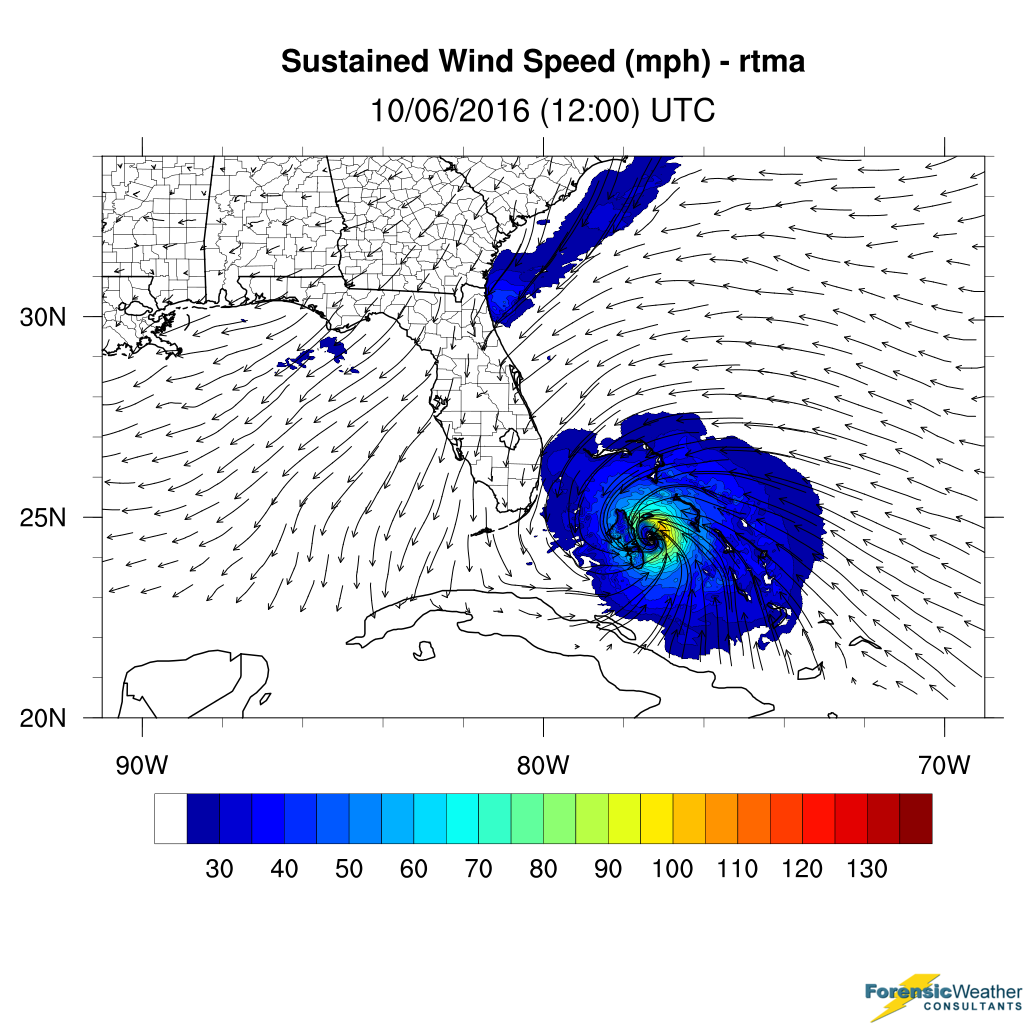 Sustained winds are shown here indicate that sustained winds of 25-30 mph are beginning to move onshore in Broward and Palm Beach counties in Florida. Tropical storm conditions will be moving in this afternoon. (Photo: Forensic Weather Consultants)
Evacuation tips
In addition to taking the actions above, residents evacuating to a safer area should take additional steps to prepare:
Collect and take all health insurance cards and auto, property and life insurance policies.
Take enough food and water for several days for each person and any pets. Don't forget manual can openers and utensils.
Pack any necessary toiletries and other supplies — such as diapers, personal hygiene items, paper towels, toilet paper, trash bags, etc.
Bring any medication and prescriptions in their containers to make it easier to refill them.
Clothing. Take at least several days of comfortable clothes, sturdy shoes, socks, underwear, jackets, heavy gloves and clothes for sleeping in.
Charge cellphones and laptops and bring the chargers.
Gather games and books for children (especially items that don't require electricity to run).
Collect supplies — duct tape, pocket knife, small toolbox, fix-a-flat, etc.
Bring sleeping bags, folding chairs and camping gear for use in shelters.
Notify family members outside of the storm area that you are evacuating and where you are going.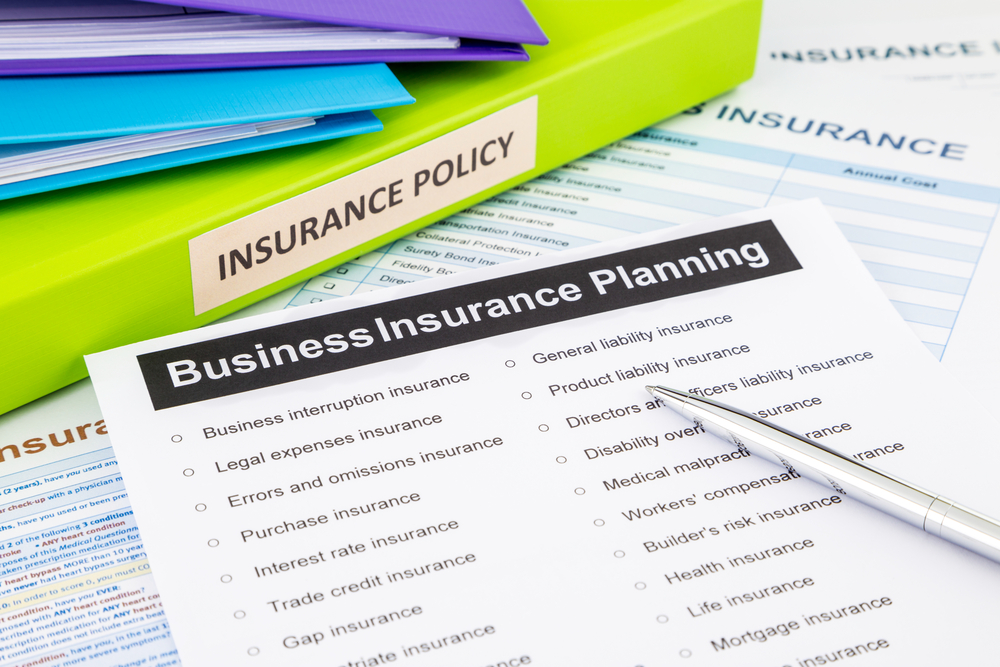 Business continuity plans are critical to getting a business operating after a major catastrophe. (Photo: Shutterstock)
Business owners and property managers
Commercial business owners must prepare not only their homes and families for the storm, but their businesses, employees, customers and property as well. Liberty Mutual Insurance offers these recommendations to business owners:
Maintain a list of current telephone numbers and contacts for emergency action such as plumbers, local police departments, medical facilities, utilities, contractors, insurance agent and broker, building owner, HVAC contractor and others. Also have a complete list of all employees with home and cellphone numbers, as well as emergency contacts.
Review your business continuity plan and update as needed. Make sure key staff members are familiar with the plan as well, when it will be implemented and any post-event procedures.
Arrange to have backup communications and an offsite emergency control center — such as a hotel meeting room, temporary space, etc. — away from the impacted area.
Identify vulnerable and critical equipment and processes. Have instructions for shutting them down or relocating them to another area.
Identify equipment that is vulnerable to water and cover it with waterproof tarpaulins.
Inspect the roof, drains, gutters and other areas for drainage issues. Secure any items that could become airborne in the wind. Trim trees away from the roof or building that could fall and cause damage.
Shut down all gas-fired equipment and shut off the main gas valve
Anchor all trailers and portable buildings to the ground.
Secure scaffolds, cranes and other equipment.
Notify key customers, suppliers and others of your contingency and closing plans.
Decide when to excuse employees to make their personal preparations
Customize voicemail, website and other messages so stakeholders are aware of what is transpiring.
Arrange for site security after the hurricane.
Establish a personnel rotation for critical operations after the hurricane.
"Preparation is one key way to minimizing the eventual impact a storm has on a company's operations and bottom line," notes Ralph Tiede, manager, commercial property risk engineering, Liberty Mutual. "Work upfront pays dividend down the road. Businesses can take clear steps to prepare their operations before a storm hits to better protect their facilities, employees, recovery and the public."
According to AIR, Florida's governor has declared a state of emergency for the entire state, the governor of Georgia has declared a state of emergency for 13 coastal counties, the governor of South Carolina has declared a state of emergency and ordered coastal evacuations, while the governor of North Carolina has declared a state of emergency for more than 50 counties with a mandatory evacuation order for Ocracoke Island. Residents in all areas are encouraged to take precautions immediately and plan for a worse-case scenario.
This story will be updated as more information becomes available.