Job cuts and shrinking bonuses dominated headlines from Wall Street this year, so it's easy to forget pockets of the industry are booming. Plunging oil prices, the Federal Reserve's first rate increase since before the financial crisis and the collapse in junk-rated debt are creating opportunities for some bankers and traders, spurring hiring and raises.
Analysts, recruiters and executives deem these are the best eight jobs to have in 2016:
1. Wealth Management
Top-producing financial advisers have never been more in demand. The steady revenue and cross-selling opportunities of wealthy clients are highly valued by banks grappling with higher costs for trading businesses. "Big teams are worth paying for because they tend to bring everything when they move shops," said Mark Elzweig, a New York-based executive search consultant. Bank of America Corp., Wells Fargo & Co. and JPMorgan all have said they're hiring in wealth management. With European firms pulling back from the U.S. and advisers' previous retention deals winding down, more teams could be in play next year.
2. Oil and Gas Bankers
Investment bankers advised a record $4.2 trillion of announced mergers and acquisitions in 2015, led by blockbuster deals in pharmaceuticals, telecom and technology companies. Which industry is ripe for the next wave of consolidation? Battered by oil's plunge, energy companies will need to lean on bankers in 2016 to shore up equity or sell themselves to stronger rivals. "When an industry blows up, you usually get a couple of really good years," said Brian Foran, a partner at Autonomous Research LLP. "It's similar to banks in 2008 and 2009, when you had some of the biggest acquisitions ever and it was phenomenal for financial institutions bankers."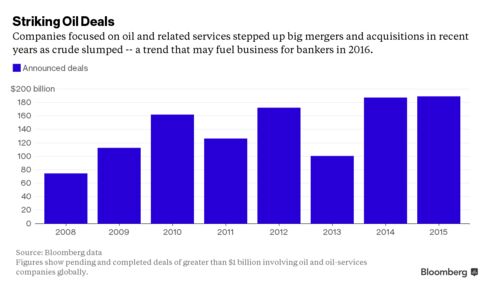 3. Restructuring Bankers
Rising defaults, widening spreads on high-yield debt and climbing U.S. interest rates mean restructuring desks have a big year ahead, according to Vincent Hung of Autonomous Research. Those bankers advise debtors or creditors when companies need restructuring through asset-sales or in bankruptcy. Boutiques including Houlihan Lokey Inc. and Lazard Ltd. dominate the field (megabanks are more often conflicted as creditors or underwriters), and the firms could see a 24 percent jump in restructuring revenue next year, Hung said in a Dec. 18 note.
4. Rates Traders
Rates traders already are poised for some of this year's biggest raises, with those handling options due for a 15 percent increase on average, according to recruiting firm Options Group Inc. Trading government bonds and related instruments should remain strong in 2016 as the Fed tightens monetary policy while the European Central Bank loosens it, JPMorgan Chase & Co. Chief Financial Officer Marianne Lake said this month. "You finally have an outlook where major central banks are going in different directions," Foran said. "That just creates a lot of activity."