The annual Benefits Selling/Eastbridge voluntary survey was conducted during March and April of this year, and almost 300 producers responded, representing a combination of employee benefit brokers, traditional voluntary brokers, enrollment companies and agents. The overarching conclusion from the survey is that voluntary is now front and center for many brokers, regardless of the type.
Over the last three surveys, there has been a steady increase in the sales activities related to voluntary. Just 8 percent of the respondents this year do not sell voluntary and half of those plan to do so in the future. However, the most notable change is the increase in the percentage of brokers describing their marketing efforts as "selling it (voluntary) actively" from just 19 percent in 2014 to 32 percent in the most recent survey.
As predicted several years ago, medium-sized employee benefit brokers and the classic worksite brokers are looking more and more similar. They often respond the same way to:
Voluntary products offered most frequently

How they chose their carriers for voluntary

Enrollment methods used

Carriers used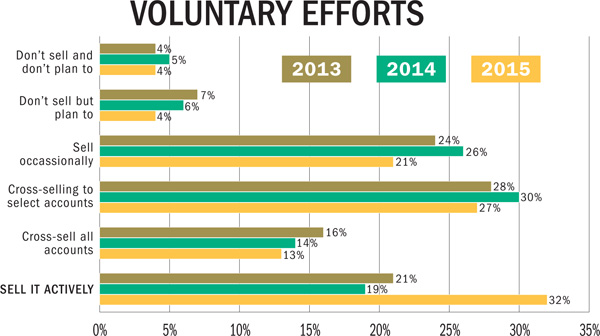 Still, there are some differences in the volume of voluntary sold (both the number of cases and the annualized new business premium) as well as their described level of effort for voluntary and their acceptance of non-traditional voluntary products. This article looks at these similarities and differences in more detail.
The similarities
When asked if the number of voluntary/worksite cases they write annually has changed over the last one to three years, 70 percent of brokers said it has increased. Close to one-fourth described the increase as significant.
The top five most frequently sold voluntary products are the same regardless of broker type, although the ranking and percent naming them as a most frequently sold product may be different.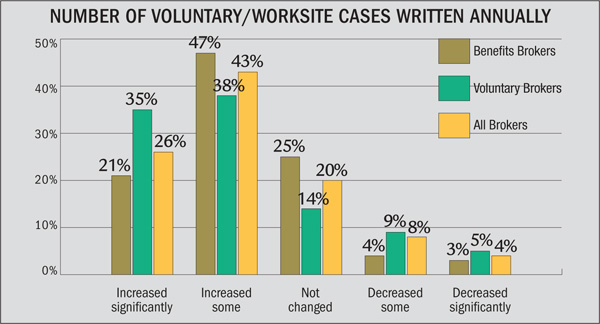 Classic worksite brokers named universal life/whole life as a most frequently sold product at the same percentage as they named dental insurance, so for classics both products tied for the number 5 position.
When asked about their top voluntary carriers, the mid-sized EBB and the Classics agreed more than they disagreed. The most frequently named carriers by both broker types were:
Aflac

Unum

Colonial

Allstate
For benefit brokers, Guardian rounded out the top five while classics named Transamerica and Trustmark. (Trustmark and Unum were named by the same number of classic brokers.)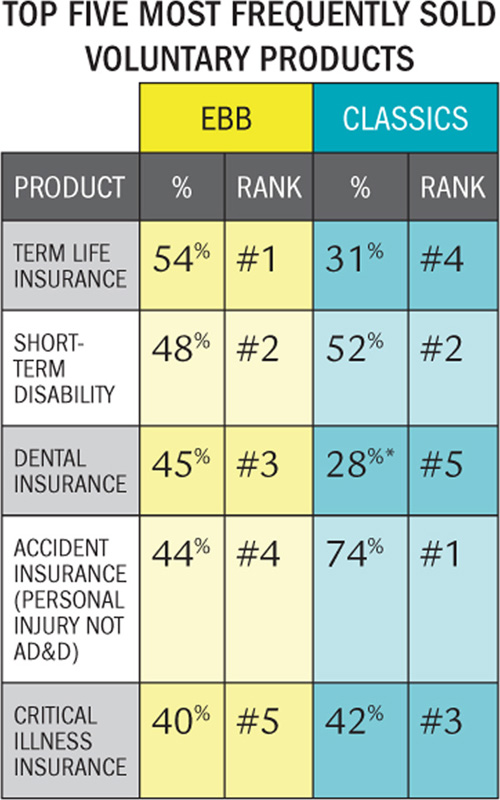 When asked if their top most frequently used carriers have changed over the last few years, about half of both types said they have varied. The top reasons for the change were the same for both types of producer.
When it comes to enrollment, there still are some differences but the similarities are growing. About one-third of broker types use a group meeting followed by one-on-one meetings. Internet usage by benefit brokers is up significantly from the prior study but unchanged with the classics.