When it comes to 401(k) plans, maybe fewer is better.
At least that seems to be the case with Wyoming, which has the lowest number of defined contribution plans. But when Wyomingites do get access, they get to participate in some of the best performing plans in the country.
That's according to the latest ranking of the best states in which to have a 401(k) from Judy Diamond Associates, a provider of plan data and analytic tools for retirement advisors.
Judy Diamond, owned by the same company that owns BenefitsPro and ThinkAdvisor, scrutinized 540,000 401(k) plans in the 50 states and the District of Columbia via its Retirement Plan Prospector database, which is populated with the latest Form 5500 data from the Department of Labor.
It assessed the productivity of those plans, based on a proprietary plan score ranking system, which measures plans' rates of returns, participation rates, and employee contribution levels, among other measures.
Eric Ryles, managing director of Judy Diamond Associates, said the study's objective is to determine which states have the highest concentration of over-performing plans, as a percentage of the overall number of plans offered.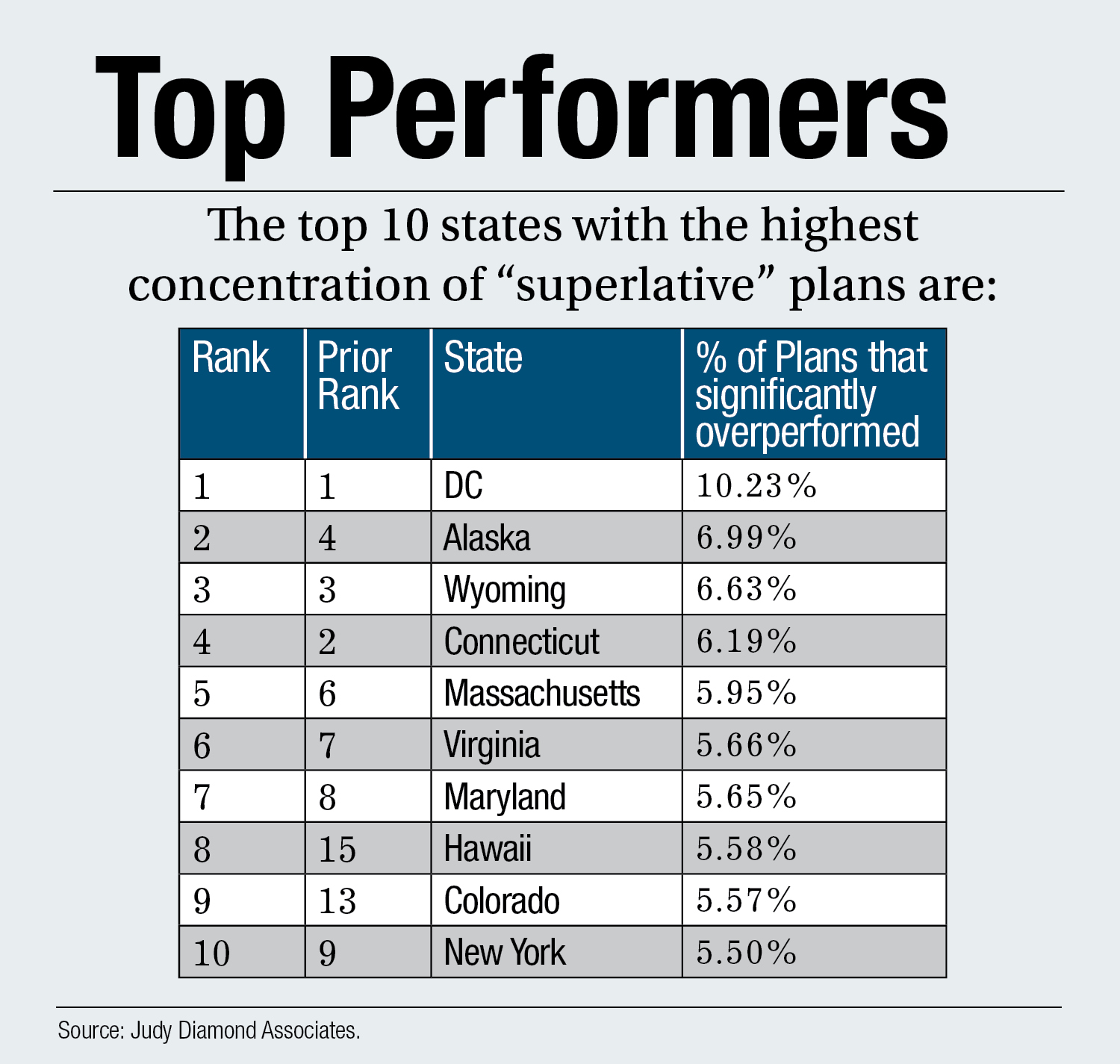 "These are plans that significantly outperformed their peer group," said Ryles.
Understanding why some plans perform better than others gives advisors and sponsors a way to gauge the strength of their own plans, he said.
The clear winner in this year's survey was Washington, D.C., which retained its No. 1 ranking from last year. Slightly more than 10 percent of the plans offered in the nation's capital outperformed their peer group.
Alaska was second, with nearly 7 percent of plans outperforming, followed by Wyoming, where 6.63 percent of plans are above-par.
The rest of Judy Diamond's top 10 was dominated by East Coast states. Along with D.C., Connecticut, Massachusetts, Virginia, Maryland and New York scored well, with 5.5 percent to 6.19 percent of plans outperforming.
Colorado and Hawaii both jumped into the top 10 this year, moving up from 13th and 15th place, respectively, last year.
New Mexico suffered the steepest year-over-year decline, dropping to 43rd from 20th.
Montana, ranked 18th, and South Carolina, 27th, were most improved from last year. Each jumped up 19 spots in the list.
In 22 cases, states either maintained last year's ranking, or moved up or down only one or two spots.
Last year, JDA found that nine states had a majority of participants in low-performing plans. The worst was Nevada, where more than 80 percent of workers were found to be in low-performing plans.
– Related on ThinkAdvisor: