For 50 years, professional advisors have been telling clients a consistent story about planning for college. It emphasizes the value higher education adds to a young person's life, along with the belief that parents can make a difference in meeting college costs. It is based on positive values including upwardly mobility, personal motivation, thrift, and investing in the future.
However, times are changing. The nation's mood is shifting with financial realities and personal priorities. Getting into and through college, at any cost, is no longer America's holy grail.
A new perspective is emerging that I call the college cost-benefit calculus. It helps to put a college education and its enormous cost in perspective of a household's overall financial situation, including the debts parents or students may owe for years to come.
Calculus is the mathematics of change, and the changes in the college cost-benefit ratio are dynamic. As costs inexorably keep rising, they will affect parents planning for today's younger children more than those planning for older children. The dynamics probably will keep moving mostly to the downside – more cost per unit of benefit.
However, new ideas and choices are emerging that have the potential to improve the ratio. Our goal is to identify facts and resources that will help you frame the discussion – so you can talk about this calculus more confidently with your clients.
Why College Is a Bubble
The table below shows college costs for the 2013-14 year, from the College Board's publication Trends in College Pricing
College Costs for the 2013-14 Year

This academic year, college costs increased by 3.2 percent to 3.7 percent, a little more than double the current rate of CPI inflation. For the last three decades, college costs have consistently increased a bit above double the rate of CPI inflation. Over this time, no other line item in the U.S. household budget (not even health care) has increased as much.* For an in-state student.
(Check out Top 20 Richest Colleges for 2013 on ThinkAdvisor.)
Why has this trend continued? Two reasons: demand and supply.
Demand – According to the U.S. Census, about 21 million Americans are enrolled in college and about 57 percent of enrollees are women. The table below compares U.S. college enrollments in 1970 and 2012.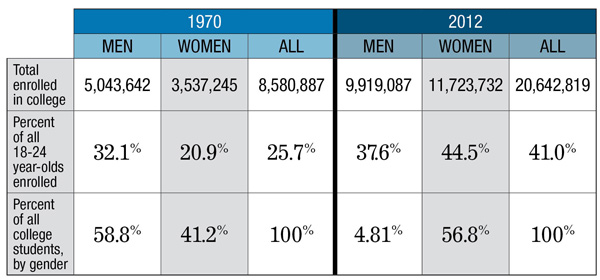 More than any other factor, it has been the women's movement that has driven demand for college admission. (Foreign students and adult education have been lesser drivers.)Over this 42-year period, the percentage of all 18-24 year-olds enrolled in college increased from 25.7 percent to 41.0 percent. But for women, it has more than doubled – from 20.9 percent to 44.5 percent. There are 8.2 million more women enrolled in U.S. colleges today than in 1970!
Supply – Supply is limited only by the funding available to pay for college. There would certainly not be 21 million young Americans in college today were it not for a vast expansion in federal financial aid over the last two decades, mainly through loans. About 12 million students, 60 percent of the total, now borrow to finance college costs.
Federal government loans for higher education peaked in the 2010-11 year at $112.0 billion. That was more than seven times the $15.6 billion in federal loans issued in 1992-93! //trends.collegeboard.org/student-aid/figures-tables/total-aid