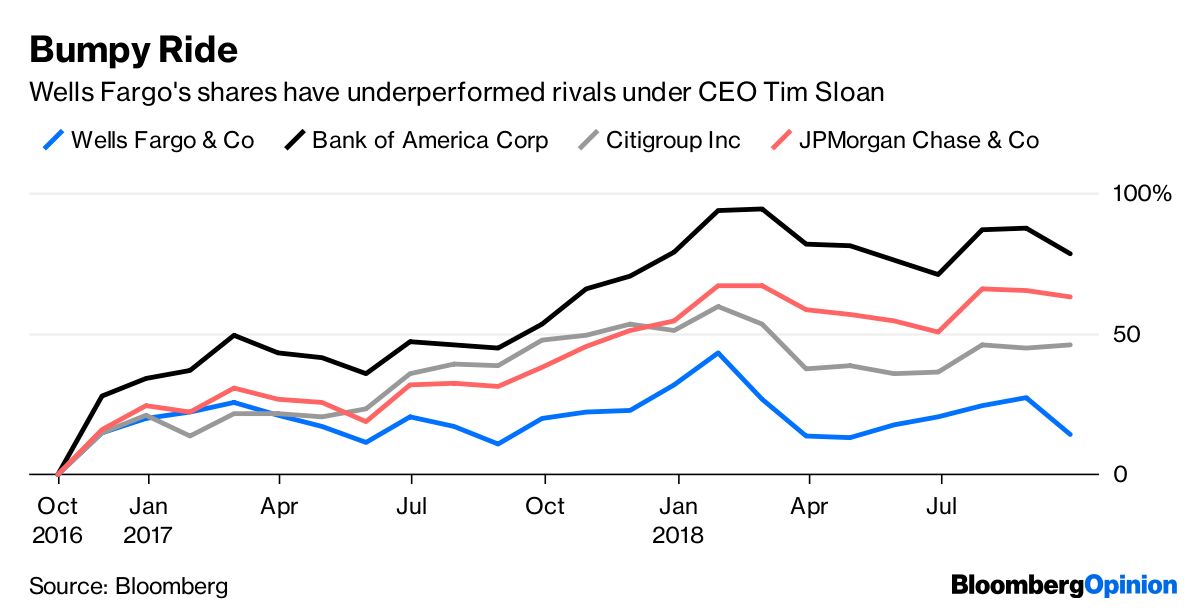 What's the appropriate board gift for a CEO's two-year anniversary? If you're Tim Sloan at Wells Fargo & Co., the correct answer is a short leash.
Sloan took over the CEO role in mid-October 2016, which means the anniversary is this week. At the very least, Sloan badly underestimated the problems facing his bank.
But he's also been slow to address the issues that have come up since he took over, particularly with regulators, and has yet to fully solve them. And while Sloan inherited a tough job, two years in it's hard to find a single business metric that has improved.
Both loans and deposits are down. Earnings, too, are expected to fall 4 percent this year from the year when Sloan took the job, and that's including an estimated $1.25 billion boost from this year's corporate tax cut.
During the same period, the bank's three main rivals — Bank of America Corp., Citigroup Inc. and JPMorgan Chase & Co. — have each increased loans and deposits.
Earnings at the three banks are up an average of 27 percent. Shares of Wells Fargo — up 22 percent, including dividends, during Sloan's tenure — have badly trailed rivals, which have returned an average of 72 percent in the same period. (Wells Fargo's shares were starting at a higher valuation than rivals.)
In another sign of Wells Fargo's troubles, its price-to-book ratio, which has been the highest of the big banks for much of the past two decades, now trails JPMorgan's.
Perhaps it's not a surprise that Wells Fargo would trail rivals, given the phony account scandal that swept Sloan into office. But Wells Fargo has also failed to meet its own targets, set well after management was aware of the problems.
Earlier this year, Wells Fargo predicted its return on equity would rise as high as 15 percent in 2018. Instead, it is expected to sink to 11.7 percent. Wells Fargo also predicted its revenue would rise this year. Instead, analysts expect the bank's sales to fall 2 percent.
Regulatory Failures
But Sloan's most glaring failure has been fumbling the bank's interactions with regulators. Observers says Sloan in his first year on the job failed to respond to regulators, nor did he take their investigations seriously enough.
By mid-2017, Wells Fargo's top executives had reportedly convinced themselves that they had solved the bank's regulatory problems.
Since then, Wells Fargo has been hit with a consent order from the Federal Reserve that limits how much it can grow, as well as a $1 billion fine from the Consumer Financial Protection Bureau.
The Fed, in its consent order, cited Wells Fargo's failure to correct deficiencies that regulators had previously pointed out to the bank as a reason the Fed went ahead with the consent order.
A Wells Fargo spokesperson called Sloan's support from the board "unanimous" and unwavering. "In two years as CEO, Tim has driven significant transformational change at Wells Fargo, which is benefiting all stakeholders."
As signs of improvement, the spokesperson pointed to a second-quarter presentation that showed a slight increase in customer accounts in the past year as well as an uptick in debit card transactions, neither of which is surprising in a growing economy.