In the world of insurance, agents are much more likely to retain clients for the long term if those clients hold numerous products through one particular agent relationship. When establishing and maintaining relationships with clients, it is essential to have the ability to meet the broad-spectrum needs of clients. After all, clients have a penchant for one-stop shopping.
In working with corporate executives, it's beneficial to provide solutions to both their business and personal coverage requirements — as, oftentimes, these two are highly correlated. P&C agencies are a great source of clients — many of whom have complex asset protection and wealth preservation needs.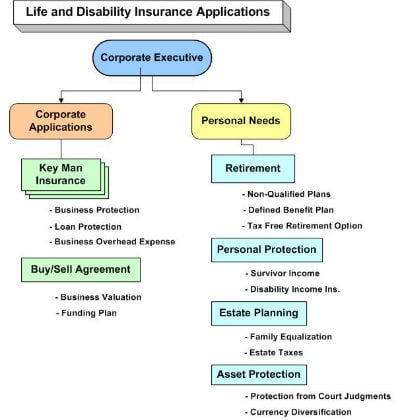 It's been our experience that a private business life cycle, in combination with its owner's management role cycle, represents an opportunity for P&C agencies to offer multiple applications of life products including life insurance, disability insurance and annuities.
However, although P&C and life insurance are both coverage solutions, they are typically viewed by clients as completely different products and services, with life insurance viewed as a personal product and P&C coverage viewed as more of a corporate product.
Consequently, the agents that sell these two distinct product lines apply different approaches with their respective clients. The difference in products and associated services are, in fact, vast. Accordingly, the respective agents think, act and work differently, with neither truly understanding the other's innate product lexicon.
There are three distinct types of P&C agencies. First, there are very large national and multinational agencies, such as Marsh, Aon, Gallagher, and Willis, with offices in every major city in the United States. The second group consists of top 100 agencies that include regional P&C agencies that may employ 75 or more people. The third is the small mom-and-pop agency that employs 20 or fewer agents.
The middle group — the regional P&C agencies — are the ones that typically face the biggest risk of losing their most profitable clients to the national full-service P&C agencies, who dominate the market. Some regional P&C agencies are facing increasing competitive pressures from national agencies that have captive insurance subsidiaries offering specialized P&C insurance coverage at lower premiums. This gives the powerhouses a decided cost advantage over local and regional agencies.
In response, some P&C agency managers want their agency to be viewed as having the capabilities to meet all of their clients' insurance needs: P&C, life, disability income, longterm care and group medical. Some agencies have created inhouse life and benefits groups in an attempt to make their operation a seamless and complete resource for their P&C clients.
Invariably, agencies have tried and failed in previous attempts to cross-sell life insurance products. In many cases, the initiative was doomed from the start since it usually came down to pressuring existing P&C agents to sell life products. Or it was a case of cronyism, engaging a longtime friend and life agent to assist them in building their life practice. As is often the case, the newly hired life agent was met with distrust by P&C agents.
P&C agency owners know successful P&C agents have different skill sets and personality characteristics than advanced market life agents who are successful in selling life insurance. Ask any agency owner, and he or she would tell you that industry professionals have selective skills that are suitable for either the sale of P&C products or life and financial products, but not both, while group insurance personnel are not suited to engage a CEO or CFO in a conversation on estate or succession planning.
Furthermore, it has been my experience that most executives will not tolerate the typical life agent's sales approach. An executive of a middle-market company with revenues of $25 million or more will likely require life insurance for many applications and at a much greater scale than the typical retail client. Therefore, they are looking for a sophisticated approach that offers substantial study and review.Moreover, the problem is exacerbated by attempts of the P&C agency to consolidate their business activity with P&C carriers who also have life insurance subsidiaries based on incentives to cross-sell the carrier's products.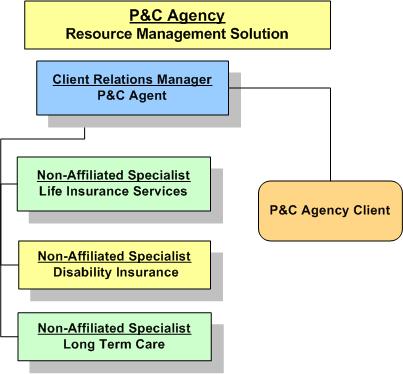 Unfortunately, those life subsidiaries offer limited underwriting solutions, which typically are not competitive with the underwriting of major life insurance carriers — nor do they offer the variety of life products or services that are offered by the major life insurance carriers.
P&C agencies are also sometimes reluctant to recruit specialized support firms to assist them in building a closer, more resilient relationship with their clients, possibly exposing themselves to having to defend their agency against multinational players.
We recognize how important that client relationship is to a P&C agency. It takes years to win over a client, but only one bad episode to put that relationship in jeopardy. Each client represents a recurring revenue stream that, when added to other clients, can mean the difference between covering an agency's fixed overhead or not.
That same reluctance applies to the agents, who are hesitant to hand over their clients to someone they hardly know. The typical P&C agent's income is based entirely on commission, and it is the agent who discovered, qualified, and sold their agency's services to the client. It is a hard-won exercise. Consequently, these agents don't want to take any unnecessary risks that could result in the alienation of that client.
Some points for P&C agencies to consider when cross selling insurance:
Corporate executives require personal solutions. The core needs of executives include protecting personal assets, solving a potential liquidity crisis, and offering advanced retirement solutions. If a P&C agency sees its mission in terms of protecting client assets, then there is a greater prospect for integrating life insurance products with P&C insurance solutions.
The need for a relationship manager. The P&C agent's role can be so much more by working with life product specialists. Instead of being just an agent, they could become a relationship manager, particularly as products and services become more technical, product lines expand and experts are required. We have seen this model applied successfully by banks that have specialists in credit, cash management, trust services and private banking. No one sales person can be an expert in everything, which is particularly true in the insurance business. So it makes sense to introduce the client to a life insurance specialist that has the experience in meeting the needs of corporate executives. This allows the P&C agent to bring together the right resources at the right time to deliver the right solution to the client.
The need to strengthen the P&C agency's reach and revenues. Needless to say, there is a great deal of pressure on increasing revenue, demands from insurance carriers for increased volume, lower commissions rates, and intense competition. This all presents a challenge to P&C agencies. Given this situation, having a life insurance component is a way to increase and diversify revenue, while further opening the door to broadening the agency's customer base.
Client gettogethers. While there are no surefire solutions, we have seen P&C agencies benefit from inviting business owners to quarterly luncheon sessions that include a discussion of various insurance issues — everything from buysell agreements, to retirement planning for those in their 40s and 50s, to estate planning for wealthy clients. In each case, the presenter could be a life insurance and estate planning specialist. This conveys to clients the P&C agency's commitment to a holistic approach to their clients' overall needs.
Client retention. By offering personal insurance solutions to corporate executives, P&C agencies can improve the prospects of client retention. By satisfying the personal needs of a corporate decision-maker, the agency is much more likely to retain that company as a client.
Rather than taking time away from prospecting and selling activity, it makes much more sense for P&C agents to partner with an expert in the life insurance arena — one who is already well versed in the ins and outs of the products and services that are available. This makes the P&C agent more productive while creating the perception that the agent is seeking the best possible objective advice and outcome for his or her clients and simultaneously capturing new commission streams. This represents a value proposition that all the parties involved can appreciate.
For more, see:
More than half of advisors less than successful with life insurance
The advisor opportunity in tax season
5 reasons you shouldn't go it alone